Ecce Homo
Author: Pittore veneziano o bottega di Tiziano Vecellio (XVI secolo) - 32 x 23 cm Provenance Provenienza: Mocasina, chiesa parrocchiale di San Giorgio -
This particular painting comes from the parish church of Mocasina, now part of Calvagese della Riviera. It is contained inside a splendid frame in golden wood of the same period or a few years later.
The artwork is precious for its size and uncommon support made of stone, which leads critics to suppose an origin for private devotion. Still, it is also an object of precious collecting taste and of the highest artistic quality.
The subject is the iconography of the Ecce Homo, with a particular focus on the suffering face of the Redemptor. In fact, a Latin cartouche on the back side of the stone recites: "Imagine Salvatoris nostri Iesu Christi spinis coronati".
The posture of Christ is directly modeled on the Risen Christ from the Averoldi Polyptych, realized by Tiziano Vecellio in 1522 for the Collegiate of the Saints Nazarius and Celsus in Brescia, commissioned by Altobello Averoldi (1468-1531). However, they differ in style.
The Christ of Tiziano Vecellio emerges from the canvas with its overflowing expressive strength. The Savior from Mocasina is immersed in a more placid and intimate pain, and its colors are applied delicately with brush tips.
Indeed, we see a few details made with a certain mastery, like the lumpy blood drops falling from Christ's head beaten by the crown of thorns.
For these reasons, this artwork may not be a copy of Tiziano's masterwork. More appropriately, it may be an original painting from the first half of the 16th century inspired by Averoldi Polyptich. So, the author could be an unknown Venetian painter very close to Tiziano Vecellio, if not one of his pupils.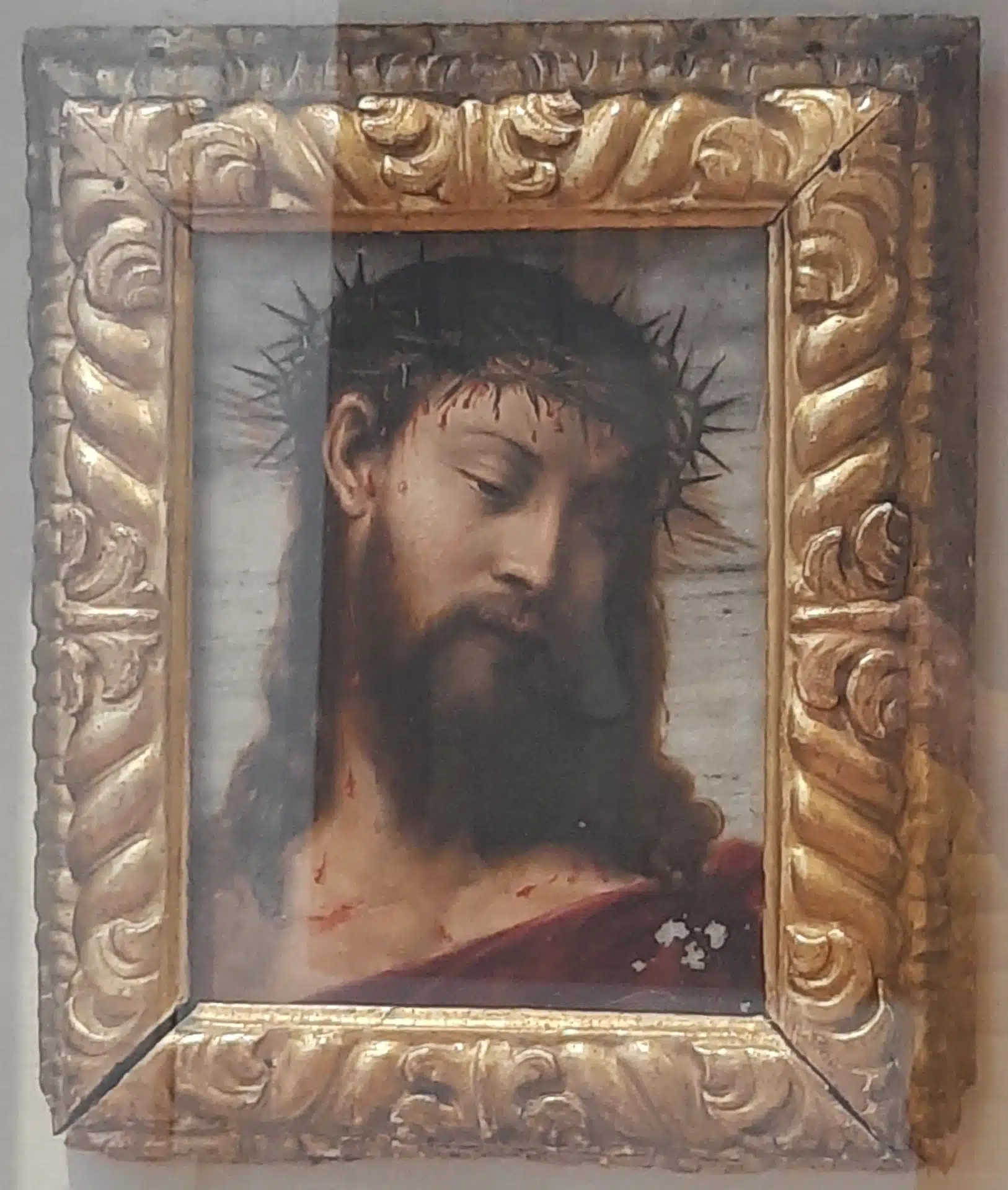 You may also be interested in: