Madonna and Child, St Leonard, St Francis of Paola and the Purgatory Souls
Author: Giovanni Battista Pittoni (Venezia 1687-1767) - 293 x 178
This majestic altarpiece of Giovanni Battista Pittoni decorated the third altar on the left of the church of St. George, sited in the homonymous square in front of the convent of St. Joseph.
There it was described by Francesco Maccarinelli in his book Le Glorie di Brescia and the two inventories of the artworks inside the temple, compiled in 1751 and 1771. He was the first to date the altarpiece in 1737, a chronology confirmed by the following sources and modern critics.
The painting was the first of the many fortunate works of Giovanni Battista Pittoni for Brescia and its countryside. The last one is the Madonna with the Child, painted in 1754 for the chapel of Palazzo Lechi in Montirone.
In the composition,Tte painter uses the classic scheme of the Madonna with the Child. He also placed the characters in a circled composition to foster the sight from the point of view of the church's entry.
On the left of the throne, St. Leonard bows himself in worship for the Virgin, who aims at him with an amorous glance. At his feet, a little angel with a chirpy face holds the chains of the jailed, which are Leonard's iconographic symbols.
Opposed to him, St. Francis of Paola begs for the Virgin's protection of the souls of Purgatory painted behind him. On the upper part of the canvas, three angels' faces appear from the clouds in the sky, completing the scene.
The colors are very bright and typical of Venetian rococo, of which Giovanni Battista Pittoni was the main interpreter. The glances and gestures of the characters are cleverly composed and measured in a very intimate and sentimental pietism, enriched by the sweetness of materials and fleshes.
Also the souls of Purgatory are original concepts. They appear in one study for the painting discovered in 1950 by Gaetano Panazza inside the collection of Pinacoteca Tosio Martinengo in Brescia. Two other studies are conserved in the Castelvecchio Museum in Verona and a private collection in London.
At the same time, the critic Franca Zavi Boccacci discovered a single draft of the angel holding the chains in the Gallerie dell'Accademia in Venice.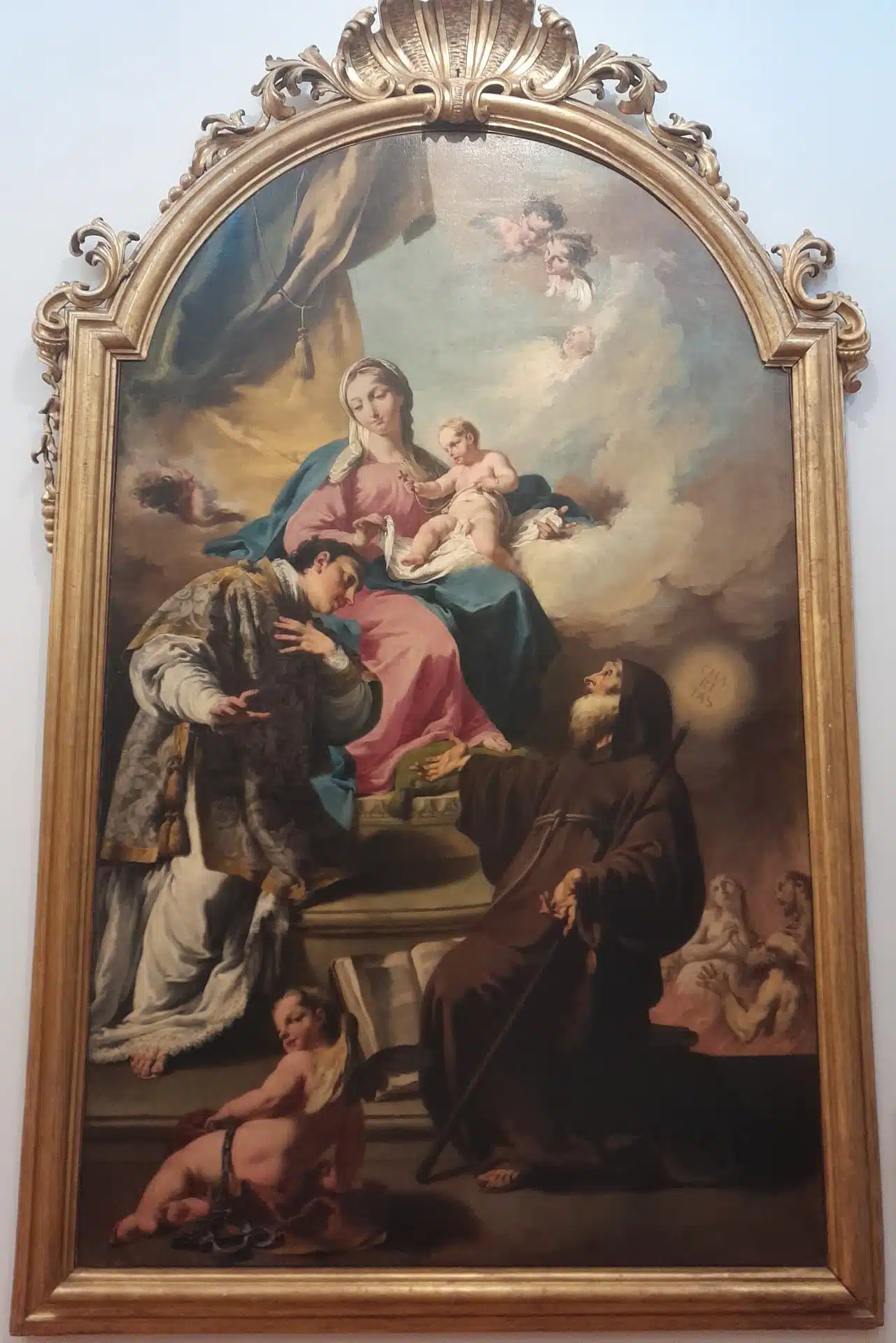 You may also be interested in: